Conscious Connection to the Higher Soul
A Higher Level Class
Recorded live, Sarasota, FL, July 20-21, 2013
Total Length: 6 hours, 48 minutes, 17 seconds
Lynn McGonagill, Instructor
A Higher Level Class with the topic of Tools for Solving BIG Problems: Conscious Connection to the Higher Soul. Effectively relate to and heal other ongoing aspects of self, including concurrent lives and our Higher Souls. While watching the videos, immerse yourself in the class and hold intentions for personal breakthrough.
Reminder: This is a learning laboratory and therefore unnatural. Outside of the classroom, we follow the Guides and find the balance. We never decide to apply any specific techniques. We are humble servants of the Divine, and follow the Guides' directions.
My Dear Friend,
We are posting the raw unedited footage here for you because this class is too important to wait for the editing to occur. That process can be lengthy because we are doing our best and not taking the easy way out. When the editing is complete, the final videos will be available at our standard rate of $97 for a class recording. For now, we're sharing this with the world on a love offering basis, so you can feel the JOY of living life from the perspective of your Higher Soul. Whatever you give in exchange for this class is up to you.
View the class videos. Step into JOY. Live your Soul Plan. You can do it. You can! And what's more, by working together, each doing our part, the world transforms. It's true! Onward to the goal, which is this: ALL of us living in JOY as we each live our own individual soul plans!
Video Tracks:
Track 01: Welcome to this Higher Level Class and Movement (1 of 21)
Track 02: Process of Creating Sacred Space - and Intentions (2 of 21)
Track 03: Review of the Lightworkers Healing Method Foundations (3 of 21)
Track 04: Review Foundations Integrity Humility Trust and Stability (4 of 21)
Track 05: Transmission Concurrent Lives and Higher Soul (5 of 21)
Track 06: Concurrent Lives - A Powerful Choice of Powerful Souls - Part 1 (6 of 21)
Track 07: Concurrent Lives - A Powerful Choice of Powerful Souls - Part 2 (7 of 21)
Track 08: Demonstration of Working with Concurrent Lives - Part 1 (8 of 21)
Track 09: Demonstration of Working with Concurrent Lives - Part 2 (9 of 21)
Track 10: Demonstration of Working with Concurrent Lives - Part 3 (10 of 21)
Track 11: Stabilizing the Pillar of Light - Q & A (11 of 21)
Track 12: Closing Process for Lunch Break (12 of 21)
Track 13: Refresh Alignment with Sacred Space (13 of 21)
Track 14: Inviting the Higher Soul Energy (14 of 21)
Track 15: Noticing the Change in the Eyes (15 of 21)
Track 16: Stabilizing the Pillar of Light for the Higher Soul - Stay Ten Days (16 of 21)
Track 17: Demonstration of Working with the Higher Soul - Part 1 (17 of 21)
Track 18: Demonstration of Working with the Higher Soul - Part 2 (18 of 21)
Track 19: Demonstration of Working with the Higher Soul - Part 3 (19 of 21)
Track 20: Questions and Answers (20 of 21)
Track 21: Closing Process to Create a Sacred Seal (21 of 21)
NOTE: When ordering files by either audio or video download,
please look for and click on the
"Return to the Lightworkers Healing Method" link.
You will find it on the PayPal screen
when you complete making your payment.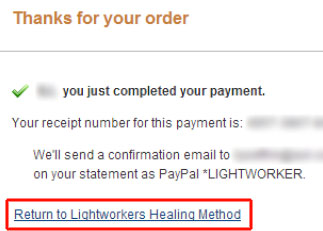 Dear, dear friends from the Higher Level Class,
In the L1 classes, it's normal for people to be afraid they can't do it, or are doing it wrong. That's why we talk about it being the stumble-through. Not a run-through, not a walk-through. It's going to be a mess but that's okay, it's supposed to be bad, right? No worries, no pressure to do it right, yes? This is the first step, yes? This is how we get to opening night, yes? Just try?
So dear friends. This is how it feels to our Higher Souls, who came in during the class 10 days ago and have now had their stumble-through. Most of them have skedaddled, in "Holy Moly" mode. Right?
Now I am talking to your Higher Souls, dear friends. Calling them out through your eyes, so they can read these words on this page. HIGHER SOULS. BE HERE NOW.
My dear Higher-Soul friends, that was the stumble-through! See, it IS harder to be present in your body than it seemed from upstairs, right? No worries! That's why you're coming more fully into your own body now, as a Higher Soul, to support yourself to live the life you wanted to live. Isn't it great that this was just the stumble-through? No worries about running away! No pressure to do it right the first time! It's the stumble-through!
So my dear Higher-Soul-Friends, take a deep breath or 17. Refresh, relax, allow Divine Light to flow through you and around you. Through you and around you.
Here's the transmission to support yourself, linked right here.
You also have it in Dropbox, but here it is, all ready to go. If for some reason this link doesn't download right, just go to the Dropbox link Rik already sent. Plus, we're getting ready to share this online. This is too important to wait for people to take this class or buy this recording.
This class can make all the difference. It can. This transmission is the most important part of this class. Absorb it lots of times, over and over and over, until you feel restored and your eyes are alive again as they were over the weekend.
We can do this, my dear dear friends. We can. We can come back into our bodies and go for a walk-through. We can do this. You don't have to do it alone. I am here for you, but more importantly your GUIDES are here for and with you, in every moment. All the Higher Dimension beings are here for you. Angels, Lightbeings. All of them. There is a 20-to-1 ratio of HD support to people in bodies. 20 HD beings supporting each of us, on average. Don't be afraid. We can do this, with all this support both HD and 3D.
Today is a NEW day. Every moment life begins again. Every MOMENT. Begin again with the transmission. Much much love. Much love.