Why Humility and Gratitude?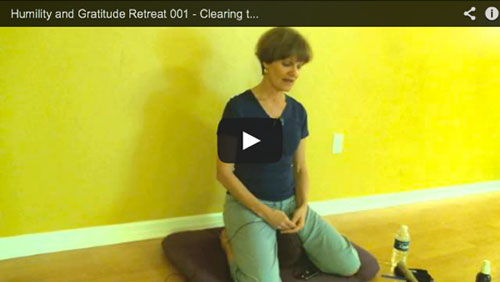 Retreat Recorded live, Sarasota FL, May, 2012
Total Length: 2 hours. 5 minutes. 29 seconds
Lynn McGonagill, Instructor
Looking for a very solid peaceful quality time?
Yearning for a Union with The One Who Cannot Be Named?
Then take a seat with us while we gladly rearrange the circle to let you in!
Lynn McGonagill is guiding the Blessings from Source.
Channeled through Untold Guides and Higher Beings acting as a riverbed for the Divine River of Love. Pouring this River right into our midst!
And you know what? The more people join in, the deeper the peace!
Time is only now, so you cannot be late.
Observe and feel how direct transmissions work.
Taste what Lynn tastes when she exclaims during this session: "I am the happiest person in the world."
Simply fill out the short form below to view this magnificent video and work with us in this 2 hour session titled: "Why Humility and Gratitude?" Humility opens doors to Gratitude and thus to Peace and Joy.
6 cycles:
Concentration and insight.
Transforming Resentment to Gratitude with Insight.
Transforming Resentment to Gratitude with Structural Work.
Humility as the Gateway to God.
Restoring Humility.
Final clearing and alignment. Reactions from the group. Email us your reactions.
Thank You for joining in!